MAGENTO BUSINESS TO BUSINESS e-COMMERCE
In the era of Magento Ecommerce is always expanding, and to keep pace Magento 2 is delivering the latest version this year. Magento 2.2 E-commerce will be the new update to the most famous B2B Ecommerce platform over the internet. Also, it is going to mainly include latest features that improve upon its Business-to-Business (B2B) functionality.
This target on Business to business features makes sense when you analyze the fast growth of the B2B market. With Magestore's Magento Business-to-Business module, your company can have strong B2B experience along with the easy process, experts, and quality information as Business To Customer (B2C). Along With professional e-commerce Business To Business features, now you can expose latest additional opportunities, build your own business to business web-shop/ marketplace. Also, Satisfy your team members and truly transform into a high-growth multichannel enterprise.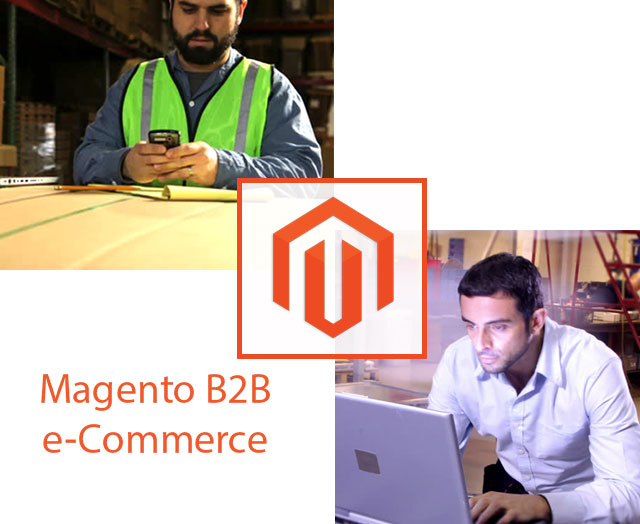 Magento Commerce for Business to Business (B2B) is structured to meet the requirements of Magento merchants (sellers) whose customers are mainly companies—possibly with complicate organizational designs and many different users with various roles and levels of permission.
There are basically two actors of a lead role in Business to the Business model are as follow
A seller (Magento Merchant) is an admin user that approach the system from the Magento Admin panel.
A buyer is a customer from another side that is associated with a company account who accesses the system from the storefront.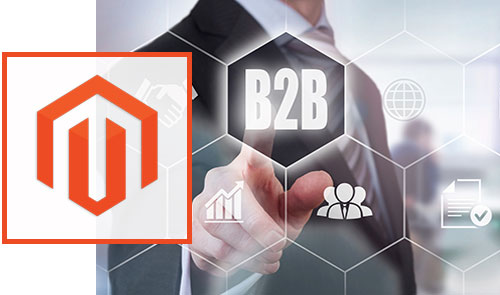 The Company elements are the key entity within Business To Business on which all other features are in some manner dependent. It permits joining many buyers that belong to the similar company into a single company account (or corporate account). The admin of company is able to create the company designs (subdivisions, divisions,  and users) in the appropriate hierarchy and offer various user roles and permissions to the company members. Like a hierarchy permits the company admin to control user activity within an account: quoting, purchasing, ordering, access to company credit info or profile, etc.
In inclusion, a Magento merchant can configure how the purchasing company operates at the website: including the pricing levels, payment methods, the ability to discuss over prices, and the ability to build requisition lists. Companies have many options to Pay on Account, or in other hand make buyers in credit. The seller allocates credit for a company account and balance credit settings for a company as well as credit reimbursement.
Shared catalogs are the pricing levels that permits setting custom costs per product for various companies on one or many websites. with the help of using shared catalogs, a Magento merchant can sell this product by using different pricing levels for different customer groups.
The buyer and seller presenting a company can negotiate the cost of an order prior to sequence placement. This functionality is helped by the Negotiable Quote module. It simply means that before making an order, the buyer can easily begin negotiations with the seller on discounts and prices.
Negotiations recommend that the built quote may be submitted,  modified and reviewed several times before it is converted into the order.
There are advanced features of Magento Business To Business
Advanced Account Management Tools
A customer self-service tool gives B2B customers the ability to request and maintain their own company accounts. On concurrent, webstore merchants are given continued features to better categorize and organize customer information. This thing includes the power to import and export customer lists. Also, the ability to designate sales representatives to selected accounts. 
Shared Buyer Accounts and Catalogue Control
The ability to have various buyers share a single account, and the option for store owners to define customer catalog approach, have been long sought after features between countless Magento stores.
Then, users would require seeking extensions for these many buyer solutions like this Multi-User extension from CodeXoxo. In Magento 2.2, the management of account roles and buyer permissions are achieved into the platform from the begins. 
Get and Manage Quote Requests
a woman conducting business Image along with a computer and phone to represent product quote requests. with the help of release Magento 2.2, quote management and customer discussion capabilities will come with the platform by default.
Drive Negotiations with Business To Business Customers
Two businessmen shaking hands after discussing a Business to business E-commerce deal. 
Encourage Speedier Purchases
Magento 2.2 features a slew of changes to decrease the time involved with a website's buying methods. 
Empower Customers to Make Payments on Credit
Image depicting a sequence of identical Credit Cards in a line.
Before this recent updates, credit card and PayPal payments were the only means to make transactions on Magento without installing extensions. With the help of introduction of Magento 2.2 although, a payment on credit option will now be available.
Sellers can configure their store's credit options to maintain the buying conditions for their Business to business customers. Maximum and minimum limits of order and credit restrictions for selected countries are among some of these adjustable credit payment settings.
Advanced Shipping Options
Image representing the advanced shipping options in the Magento 2.2 update.