Node.js JavaScript Environment Development Services
At Codexoxo, we strive to create applications for your business that are both robust and performance-oriented. Node.js is an open source, cross-platform JavaScript run-time environment that executes JavaScript code outside of a web browser.
The features in websites and web applications come with the effective use of JavaScript through Node.js that also brings a whole new experience in businesses, no matter if it's small, medium or large.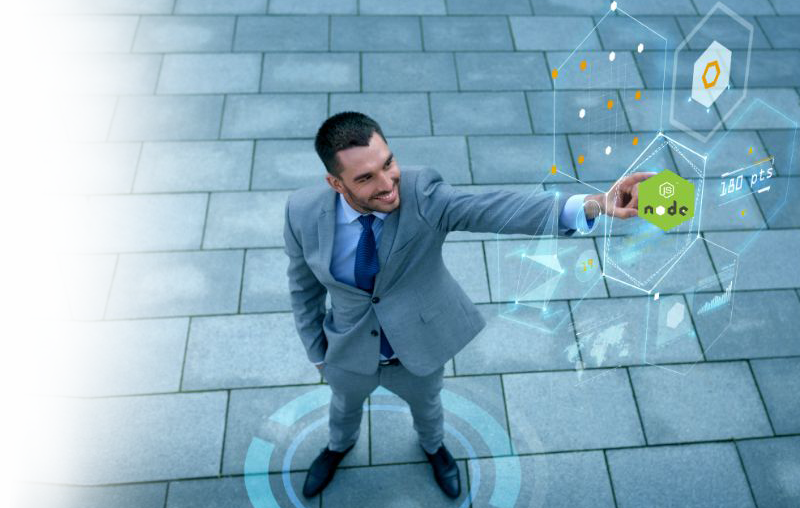 Node.js can also be used to proxy several services for dissimilar reply time. The server-side application development using Node.js can help in establishing communication with third-party resources and collect relevant data.
We provide you with all the qualities of Node.js development and support solutions through our varied services.
Development of Real-time Network Application
Node.js Plug-ins Development
E-commerce Web Development
Interpret JavaScript Code via V8 JavaScript Engine
Shopping Cart Development
Custom Node.js Web App Development
Web Application Monitoring Dashboard
Why Choose Codexoxo?
We craft feature-packed websites with chat options and flexible data updates. Our expert Node.js developers create consistent applications for businesses of any size. Node.js is an exceptional application development base for your web projects. The web applications which are developed by us have the ability to execute multiple writing and reading tasks at the same time. Codexoxo is an exclusive place where you can quickly hire industry's most professional and dedicated Node.js developers and technical support experts.
We understand your desire to create right products targeted at consumers
Well-built exploration of market and competitors' strategies
Timely delivery of projects
Applications with ease of sharing and updates
Aggressive cost in the market
Outstanding consumer communication and customer care
Node.js serves as an ideal platform for web applications that are well-built for your business. One of the most superior web app development methods is mainly used for real-time applications. Right from the time of its beginning, Node.js has been a choice in the web development industry. Also, it has an enormous alternative for the formation of high-performing and real-time web applications that is suited and required by different types of enterprises and businesses worldwide.
Hire Node.js Developers At Codexoxo
Hire professional Node.js developers at Codexoxo for your project. We have a team of highly trained and skilled Node.js developers who can be hired on hourly, weekly and monthly basis. You can hire our Node.js developers as per the requirements of your project and choose to have the developers work with you either as part time or full time.
Codexoxo is a leading Node.js development services provider around the world. Our highly skilled developers put their efforts to render one of the best services our clients will experience. Our developers construct extremely scalable web apps in an efficient manner.
Contact Our Node.js Developers At Codexoxo
You can reach our Node.js developers instantly simply by dialling our toll free phone number [phone number]. Our support centre is open round the clock to assist you with Node.js development services and solutions. We deliver industry's best Node.js development services to clients across the globe.