Vue.js Development Services
Codexoxo helps you build single-page applications and user interfaces using the Vue.js JavaScript front-end development framework. Our team consists of specialised and experienced Vue.js developers that focus on rendering declarative and component composition, giving your feature-rich applications that are based on adoptable architecture.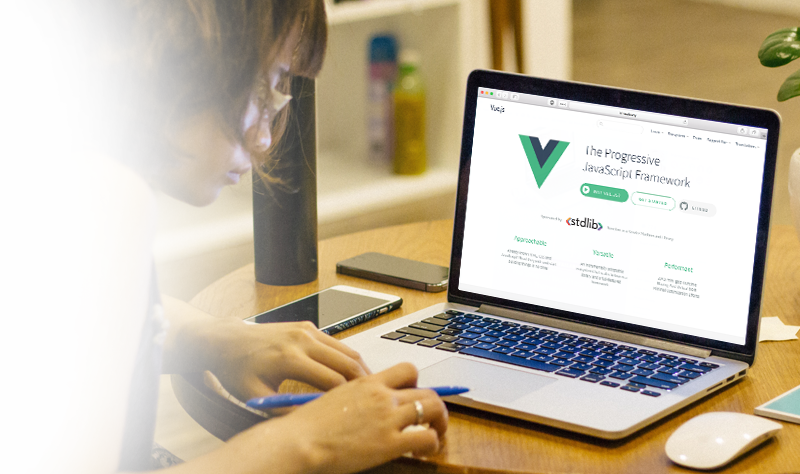 We help business establishments, small or big, develop real-time and dynamic applications through our state-of-the-art Vue.js development services.
Vue Router

The router for Vue.js, which deeply integrates the Vue.js core to make building single page applications quick and easy. Also, offers several features such as view mapping, wildcards, transition effects, HTML5 hash mode and much more.


State Management

Management of one or more user interface controls such as control buttons, radio buttons, navigation links, etc. in a graphical user interface. Here, the state of one user interface (UI) control directly depends on the state of the other UI controls.

Build tools

We take advantage of modern build tooling for creating high performance and flawless applications that provide essential features to help you carry out tasks in a much efficient fashion.

Why Choose Us
We render Vue.js development services and advanced solutions to clients for the purpose of simplifying your tasks and other business operations that require to be functioned with the help of such applications.
Front-end Framework

Our professional Vue.js developers at Codexoxo help you build robust and scalable applications for your enterprise using the Vue.js JavaScript front-end development framework and MVVM architecture that works faster than any other front-end development framework.

Custom Applications Development

We provide custom Vue.js development services for websites and applications with benefits of having essential features and rich functionality to help you carry out tasks that fulfil your business objectives easily.

Vue.js Integration With Third-Party Components

Our team of skilled and dedicated Vue.js developers help you make more use of your applications by integrating them with third-party components and applications that will also save you time and cost of purchasing software separately.

Innovative Approach

At Codexoxo, our Vue.js developers make best use of component-based user interface (UI) and innovative approach to build Vue.js applications for your company that will also help you easily upscale the applications for performing activities effectively in the long term.

Vue.js Migration

We provide easy migration services from older Vue.js framework to a much advanced and full stack Vue,js development in order to create an opportunity to minimise risks in your business.

Expert Consultation

Codexoxo provides consultation services by our Vue.js experts because we understand the challenges that you face in your business and our experts can help your resolve via applications that associate goals and lets you achieve them effectively, without putting much effort.

24/7 Support

We render 24/7 Vue.js development services and support solutions to clients, in which our professional Vue.js developers guide you through the process of not only developing applications for your business establishments, but also assisting you with technical challenges you encounter when using the application.
Contact Us
Give us a call today to get started immediately. Our Vue.js development services centre can be easily reached by dialling the toll free phone number [phone number] and get connected directly with our professional Vue.js developers, who will assist you with your project.
Our Vue.js development services can be contacted any time. We are available round the clock to provide assistance to clients all over the world.