We Create Perfect Designs For Posters and Banners
Are you not satisfied with the way you are advertising and marketing your business brand and products etc.? Need something better and which is more marketing-oriented? Well, do not stress yourself. Codexoxo has the best solutions for you!
Advertising your business can sometimes, be quite daunting. However, that isn't the end yet. There are plenty of options that can be found. Thus, when there are options, then there are opportunities, too. When you are running out of advertising and marketing ideas and trends that could help you in promoting your business brand, products and so on, it's Codexoxo that comes into picture to assist you.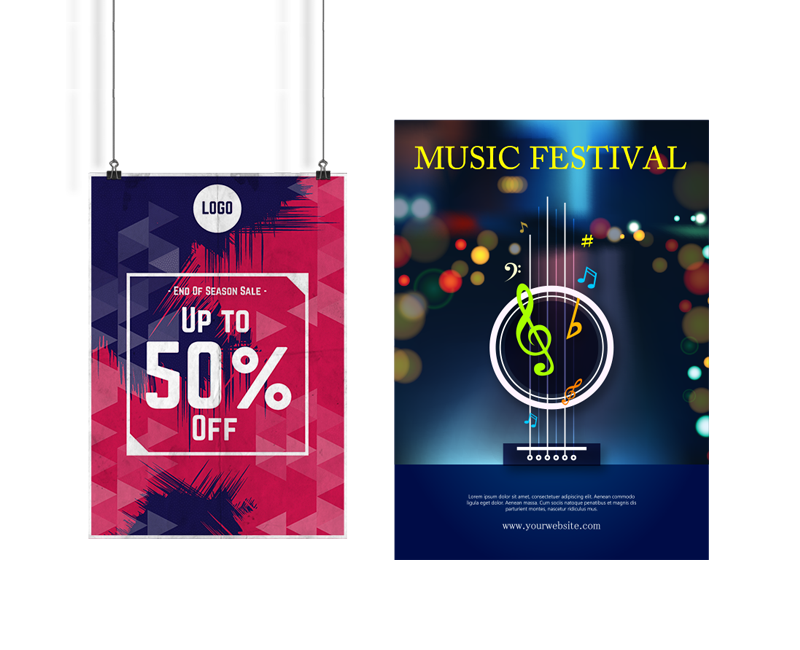 With our poster and banner design services, you can open new doors to market your brand and products  to a large number of audiences. Our professional graphic designers create visually appealing designs for:
Now, advertising becomes much more market-oriented for your business!
You can avail our poster and banner design services directly by simply contacting us on our toll-free phone number <enter-phone-number>.
Want to design a poster or banner for your company and advertise products? Let us help you!
Contact our professional graphic designers
Schedule the stipulated project delivery time
Request for modification in the design (if needed)
Proceed with printing the digital design into posters, banners, signs, billboards, etc.
Provide your requirements and quotes
Our designers revise the designs before being finalised.
View the completed project in digital format (PSD, JPEG/JPG, PNG, GIF, TIF etc.)
You're all set to go in just a few simple steps!
More Scope Means Better Business
Our digital and innovative approach along with several years of expertise in designing professional posters and banners provide a way for entrepreneurs and companies to keep you apart from your competitors.
If you are an entrepreneur, a small or mid-sized company, or an organisation, you can enhance the scope of your business through new opportunities. Such opportunities may either be discovered, or may just come right to you. Our services are not limited to few business types. In fact, we gladly render our services to:
Hotel and Restaurant Industries
Other Professional Services
Why Choose Codexoxo
We believe in catering to the needs of our clients and thus, providing you the best assistance so that you achieve your business goals effortlessly.
We provide unmatched services.
Every graphic designers at Codexoxo are certified and bear creativity and skills.
Our poster and banner design services comply with industry standards.
Our services are budget-friendly.
We house a team of best graphic designers in the market.
We have served over thousands of clients across the globe.
We guarantee our clients with utmost satisfaction.
We also provide round the clock assistance.
Experience our seamless expertise in the field of designing posters and banners that looks both professional and impressive. In addition to this, displaying or advertising your brand and products will help you gain more attention from audiences.
Need Professional Designers?
Get in touch with our professional designers at Codexoxo and have your projects completed effectively. We are always available and ready to help you. Contact us on the toll-free phone number <enter-phone-number> to hire a professional designer immediately.
You can seek more information and assistance from our customer support centre, which can be reached by dialling <enter-phone-number>. Our customer support centre is open 24/7 to assist you with your questions.