We Create Stunning and Quality Brochures For Your Business
Spread the word of your brand, products and services through brochures. Grab the attention of audiences, no matter where they are. Just started a new business? Advertise your business brand through brochures – that's another great marketing tool you'd surely want to make use of to help you achieve growth opportunities.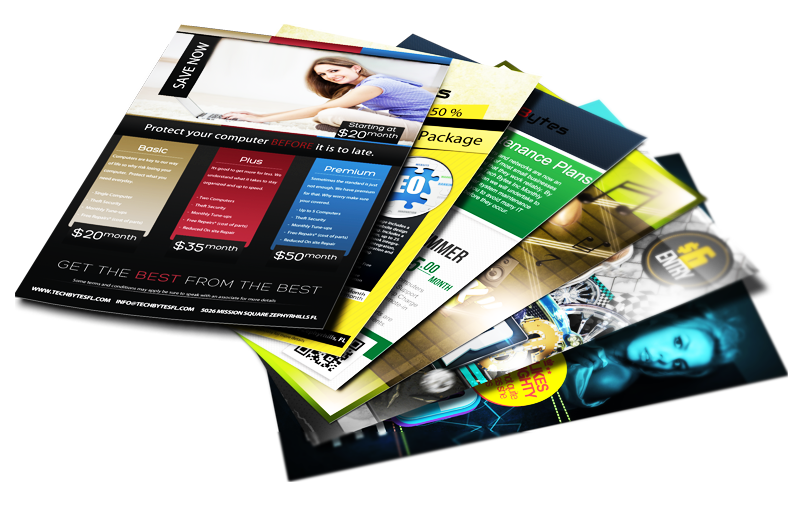 Out of the various methods of advertising your business, one of the most portable and widely distributed type is the use of brochures. Brochures are a cost-effective marketing method that is ideal for advertising products and services in any part of the world.
If you own a business and want to market your products and services, then here is your chance to make your brand even more popular to audiences and consumers. Our brochure design service is just what you will need to get started. We can help you design stunning and quality brochures, which can be of various style formats that best fulfils your taste as well as business needs.
To get started today, simply give us a call on our toll-free phone number <enter-phone-number>. Our brochure design professionals at Codexoxo can be hired to do the job for you.
Types of Brochures Our Designers Create At Codexoxo
Brochures are not only known to be portable, but these come in different appearances, too. You can select how you want to have your brochures designed by our professional designers at Codexoxo. We design professional brochures for various industries, such as fitness centres, real estates, hotels, restaurants, health-care, non-profits, supplies, movers and transportation, services and many others.
Brochures come with a range of formats or layouts. So, you can have them designed whichever way you feel comfortable and satisfied. You have the freedom to choose your own layout, or get expert suggestions from us to help you make the right decision.
Some of our most popular and widely distributed brochure design layouts include:
Want Something Different?
We understand that every business and/or individual has a different taste. Thus, keeping this in mind, we, at Codexoxo, offer a variety of choices to you that may be demanded by your business.
Here are some of the other brochure types that our professional designers have the ability to create with accordance to the content:
Content can either be supplied or requested by you, along with other critical requirements that you wish to be included in the brochure of your company.
Choose your preferred style format with or without the required size. Our designers at Codexoxo will do the rest for you. Do reach us at <enter-phone-number>
Meet Our Professional Brochure Designers
Our expertise in designing brochure layouts, which also includes content, is seamless. Not only that, we have a team of highly qualified graphic designers, who are specialised in creating brilliant visuals both digitally (PDF format supported) and in physical form, such as printed media.
Several years of expertise in the field
Teamed with professional graphics designers
Focused in rich-quality brochure design
Renders custom brochure design
Strive to deliver projects on time
Ability to meet deadlines
Adheres to the standards of industry
Provides expert advise and suggestions
Budget-friendly project quotes
If you have any questions on company brochure designing, feel free to ask and seek answers as well as get suggestions from our certified experts at Codexoxo.
Call us on our toll-free phone number <enter-phone-number>, which is operated round the clock. Our brochure design services are rendered across the globe.