Express Yourself Professionally With Letterheads
With the use of letterheads for your business, whether it's a small company or a large corporation, quickly leave an impression that will be admired by your partners, clients, employees, vendors etc. This piece of imprinted stationery is regarded as an essential medium of communication with other people within and outside your company.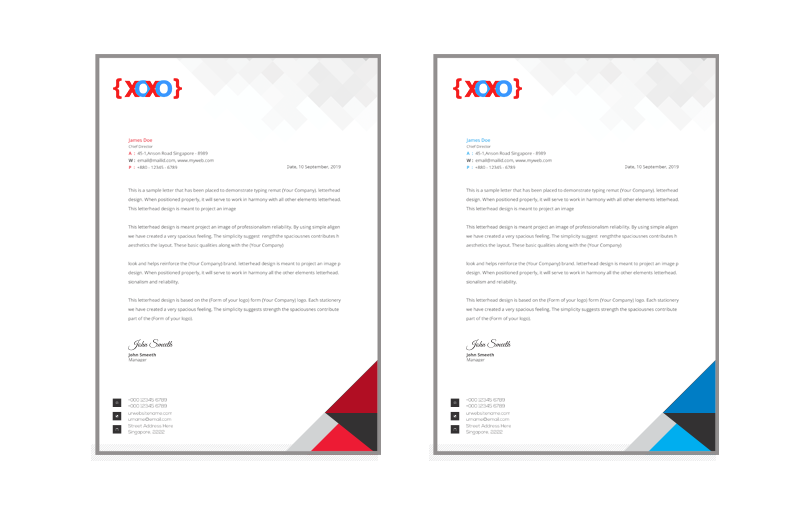 Letterheads can be used for several purposes within businesses. See below for its most common uses:
At Codexoxo, we design and print beautiful as well as professional-looking business letterheads for your company or organisation. Contact us to get started right away! Call us on our toll-free phone number <enter-phone-number>.
We Make Professional Letterheads Through Modern Technologies
Codexoxo delivers exceptional business letterhead design services with the help of advanced technologies and the skills of our talented graphic designers.
Letterhead Contents (business or company name, logo, address, website etc.)
CMYK Colours with 300 DPI Resolution
Pre-built Letterhead Design Templates
Background Pattern (optional)
Simple and Stylised Fonts
Standard Letterhead Paper Sizes (A4 and 8.5 x 11 inches)
Supports PSD Digital Format (source file)
Ready to Print Letterheads
Benefits That You Get With Business Letterheads
You can avail a lot of benefits with the use of letterheads.
You can build a professional image in the market.
A letterhead can be used as a great advertising and marketing tool for your business.
Make your brand become known by mentioning your name, business name, address, contact details, website etc.
Mentioning website and social media on letterhead can help increase web traffic.
You can generate more responses from clients and do better business.
Publicising your business through letterheads is a cost-effective method.
Letterheads provide a way of reliability for your business and clients.
Here's How You Can Get Started Quickly
There is no need for you to go through any hassle at all. We will take care of the job at hand. We only require a few details from you which you want to be included or mentioned on the business letterhead of your company:
Your company or business name
Company or business address
Requested font style on the letterhead
Business phone number, fax, etc.
Personalisation options (if any)
Business website and social media URLs
Once you have provided us with the relevant details, our graphic designers are ready to proceed with the letterhead designing.
Why Codexoxo
Codexoxo is a leading partner that caters to countless clients with on demand services and solutions. Services and solutions are of diverse range – from development to providing post-development assistance.
Recognised as a legitimate company
Strives to render quality services
Able to handle strict deadlines
Renders assistance and solutions round the clock
Best team of professionals
Compliant to industry standards
Guaranteed client-satisfaction
Expertise in various fields
Committed to timely delivery of projects
Builds long-term relationship with clients
Contact Us Today!
Our professional graphic designers at Codexoxo are here to assist you with business letterhead designing services. Simply give us a call on our toll-free phone number <enter-phone-number> to avail the best quotes for your desired project.
We can be reached easily for assistance and expert solutions. Our services are open 24/7 to cater to clients worldwide.
For more information on designing letterheads for businesses, speak with our team of professionals right away!