Magento Enterprise Edition Over Magento Community Edition
Magento is the undeniable king in eCommerce results having captured 29.1% percent of the total market share by 2017. One of the most aged online commerce platforms. This enjoys legendary achievements in the digital retail domain with clients like Christian Louboutin, Burger King, Nine West, and Fraport to name a few.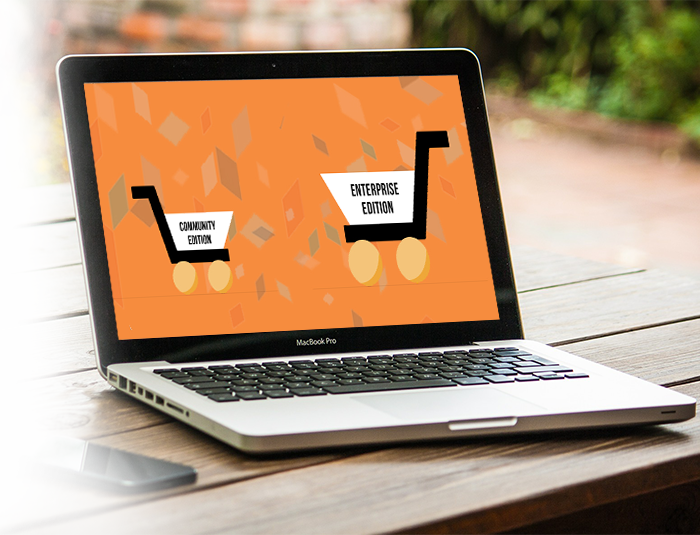 Both Magento's Community Edition and Enterprise Edition are excessively powerful and popular outcomes but with a marked contrast in terms of price. The Community Edition is free of cost and open source but Magento Enterprise Edition is quite spritely priced. So businesses regularly wonder which version is correct for them and whether it is worth shelling out the extra cost for the Enterprise version.
Well skilled and Experienced Magento support team is always accessible for any type of client support service. Based on clients' target and marketing strategies, our Magento expert customize ongoing support services and provide full support with dedicated development team. Affectionate knowledge of clients business, their ambitions and targets support us uniquely assist them and provide them best Ongoing Magento support services.
There are 2 Magento Editions are available
What is Magento Enterprise Edition?
Magento Enterprise Edition shares the similar base as Magento Community Edition. Although, as Magento adoption continues to rapidly raise, there are retailers who need more than the community can offer. Some require additional features and deep customization, some need major functionality contrast, and others need a higher level of support through Service Level Agreements.
There are a lot of reasons for this, ranging from business needs to traffic deliberation, catalog size and even the forms of services retailers wish to offer. The Magento Enterprise Edition is therefore fully helped by the Magento experts team. Magento invests considerable resources for development and continued help of Magento Enterprise Edition and offers a longer support life-cycle. This balanced base, that can be simply customized if required, provides exclusive additional features and is backed by a solid support contract giving organizations the results they require for a production ready.
Magento Enterprise Edition as given above is the premium and paid version of Magento. Magento Enterprise advanced capabilities have made it famous with plenty of eCommerce giants to power their digital sales. Magento Enterprise Edition is completely helped by the Magento experts team and subscribers get full customer service and support by phone and email. The cost also includes special features, security,  and product improvements. The license fees cost of Magento enterprise edition is about $22,000/year.
There are some features of Magento Enterprise Edition
Pricing
Magento Enterprise Edition price about $22,000 per year. Advanced, you will earn implementation costs for sure.
Security
Magento Enterprise Edition uses credit card tokenization or security of advanced payment so that can be best because these features are needed for banks.
Scalability and performance
Mostly Businesses that need more capabilities and features purchase the Magento EE because overall performance is much better along with the paid version. Magento EE permits sites to scale fastly and offer support for running multiple databases that can be used for checkout, sequence management, products etc. The latest Enterprise Cloud for EE dramatically speeds up deployment. On other hands, Magento EE advantage is entire page caching as it assures a smoother shopping experience.
Functionality
Most of the paid version of Magento like Magento Enterprise Edition has many advanced features like segmentation with minimum advertised price, targeted offers, return management authorization, price and promotion permission, an enhanced catalog and CMS, call center software with assisted shopping etc.
Dynamic marketing and search
Magento EE is more targeted on personalization, analytics, and customer experience. It uses advanced content staging, Focused content sophisticated, customer segmentation and shopping cart reminder notifications. The Enterprise Edition also provides Elasticsearch which is a stellar feature allowing customers to locate products rapidly.
Default Solr Search Available
Entire Page Caching and Faster Re-indexing
Reliable and Trustworthy Partner for Unique Development Needs
Rollback Service and Backup Available
Reviews, Custom Coupons, and Awards
Created in Functionality of Import/Export Tax Rules
Many Administrator Roles for Various Websites
System of In-built RMA
Secure Payments with PCI compliant Code
Filtered Automated Mails Functionality
Magento Enterprise Edition offers the following benefits are as follows
What is Magento Community Edition?
Magento Community Edition is free of cost, open source CMS which anyone can easily download and use to create their web store. It is excellent for small businesses that want to try their hands at creating an eCommerce site. Since it is open source, it is simple and easy to customize and makes use of the Magento extension marketplace to increase the website's functionality.
Although, it is time-consuming & resource for any business with no or bit experience, thus it is always advisable partnering with an experienced IT firm offering reliable and trustworthy web application development services to develop an error-free Magento e-store.
There are some feature of Magento Community Edition
Pricing
Magento Community Edition is free of cost. Additionally, you won't earn implementation costs.
Security
Magento Community Edition lacks credit card tokenization or advanced payment security that can be an issue because these features are needed for banks.
Performance and Scalability
Magento Community Edition to perform may regularly function to seem quicker, but Magento community edition is just used by smaller web-stores with lesser modules.
Functionality
As Magento enterprise is paid version has plenty of advanced features like minimum advertised price, segmentation with targeted offers, price, and promotion permission, return management authorization, an enhanced catalog, and CMS, call center software with assisted shopping etc.
Dynamic marketing and search
In Magento community edition customers can sort and narrow their results based on set criteria.
Why choose CodeXoxo?
CodeXoxo is a Professional company catering to retail clients all over the world. Talk to our Magento experts to know how we can help you in choosing the appropriate Magento solution for your business.