Your Expert For PrestaShop Store On Web And Mobile Platforms
Sell anything on your PrestaShop web store and go digital. If you need to get started, look no further. We are here to guide you with expert solutions provided by our team of support professionals at Code XOXO.
Running an e-commerce store via PrestaShop opens the opportunity for you to grow your online business, while processing trade and payments quickly and securely on the internet. In the same way, you can also run your PrestaShop store on mobile devices using its app. This can greatly increase the volume of customers to a large scale. If you need assistance to get started with the PrestaShop app for your mobile store, our professional developers and support experts are here to help you.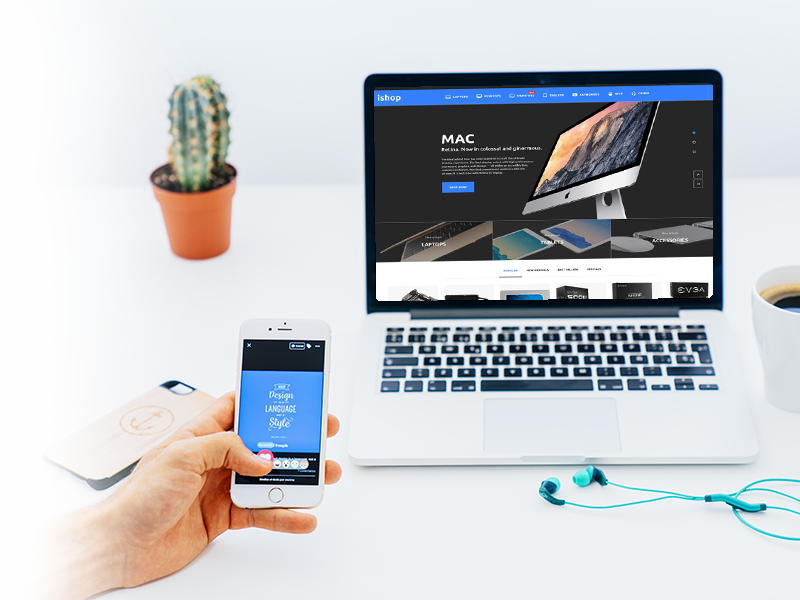 Reach us via our 24/7 online help desk, or you may contact us via e-mail. We are available round the clock. Also, if you need suggestions and/or advice with regards to the PrestaShop store app development and usage, our professional developers can assist you immediately.
How PrestaShop Store's Mobile App Benefits You
Our team of professional developers create PrestaShop app for cross-platform mobile compatibility. With the PrestaShop app for mobile platform, you will have better chances of selling products and on a wider scale. Your e-commerce store can be visited by online shoppers right from their smartphones and tablet devices.
This gives you a whole new experience and lets you reach out to more number of visitors and thus, help you increase your sales.
You can benefit from the PrestaShop app for mobile devices in various ways:
It is a great e-commerce platform

It is responsive

It is easy to install and configure

It offers custom templates, themes and add-on modules

It provides an administration panel that allow you to easily manage your web store

It gives you access to PrestaShop Store to explore lots of useful utilities and tools

It lets you customise themes of your web store

It provides an array of features

It gives you flexibility

It contains built-in functionalities

It gives you portability

It offers add-on modules that extend your business activities

It lets you integrate several payment gateways to process transactions online

It allows you to manage shipping operations
Why Code XOXO For PrestaShop App Development
We are continuously guiding over thousands of merchants who want to enter the e-commerce marketplace and make their online business flourish with success.
Our PrestaShop app development services are proudly rendered to a large volume of merchants and across various nations.
PrestaShop App For Mobile Development

Code XOXO fulfils the dreams of merchants by creating feature-rich apps for the PrestaShop store which can be easily accessed via smartphone and tablet devices. By using the PrestaShop e-commerce app, merchants can sell their products, no matter which industry it is. Easily sell products like branded clothings, commodities, electronics and various other goods and services to customers.

Back Office Integration and Configuration

The developers at Code XOXO help you quickly integrate and configure back office applications and services like the MySQL database as well as the CRM/ERP and payment gateways. These applications and services let you carry out effective management of your merchandise, payments processed online and healthy customer relations. You can also approach our support experts to assist you with the back office management.

Optimisation and Maintenance

We provide services in optimising and maintaining your PrestaShop e-commerce app and web store. This service is carried out to ensure uninterrupted functioning of your e-commerce store, whether you run it on a web browser or use the mobile app. Our experts optimise your web store's traffic and ranking for better visibility on popular search engines like Google, Bing, Yahoo and others.

Thorough Expertise

Our professional developers are trained on PrestaShop. The developers have higher skills in creating a world-class e-commerce store website as well as the PrestaShop app for mobile platform. In addition to this, we have a team of support experts who bear in-depth knowledge on the PrestaShop e-commerce platform. The support experts provide effective solutions whenever you need assistance and guidance.

Exceptional Services

We believe in rendering exceptional services and e-commerce solutions to our clients. Our help desk is operated round the clock. Our support experts can be contacted any time directly via phone and e-mail. You can find help right from your comfort and get answers to your queries quickly with regards to the PrestaShop e-commerce store app for mobile devices. Our on demand customer support services are friendly, effective and affordable.

Aimed At Growing

We focus on and encourage the growth of e-commerce business in today's digital marketplace. Our unlimited e-commerce support solutions are catered to help you grow your business as an online merchant. We provide consultation and advice which can be handy and helpful for improving your PrestaShop web store app's functionality as well as your overall e-commerce business.
Reach us any time for assistance and solutions. Contact our PrestaShop experts at Code XOXO via our help desk number <enter_phone_number>. Or send us your queries on our support e-mail <enter_email_address>.