Now Get PrestaShop App On Your Mobile Device
Make your online store more scalable with the power of PrestaShop's mobile app.
Merchants who own PrestaShop e-commerce store for selling commodities to customers are given additional opportunity to take their business further. Our PrestaShop mobile app builder service lets you have a fascinating experience of carrying out e-commerce on the mobile platform.
Easily convert your e-commerce store into the mobile application. You can increase your chances of selling more commodities to a large volume of customers who shop on their smartphone and tablet devices.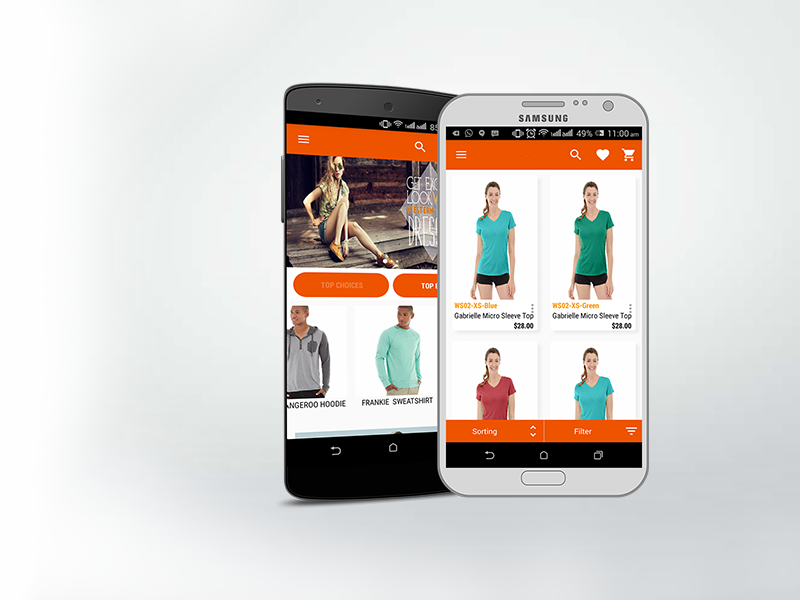 PrestaShop app, when installed on your mobile device, provides plenty of opportunities to grow your online business in the e-commerce market. The PrestaShop mobile app for your e-commerce store has all the essential features and provides advanced tools to accomplish your business objectives in a better way.
PrestaShop Mobile App Builder Features
Present-day e-commerce markets have revolutionised the ways of reaching out to a large number of customers. As customer behavior changes, the need for improved e-commerce strategy arises as well.
Explore the amazing features of the PrestaShop mobile app builder for your e-commerce store:
Authentic Design

Layered Navigation

Mobile Platform Compatibility

Administration Control

Customisation

Sync with web store

Social Link

Push Notifications

Wishlist

Shopping Cart Checkout

Payment Methods

Shipping Methods

Order tracking

Multi-Language Support

Live Customer Support
Our PrestaShop mobile app builder services at Code XOXO supportsbothGoogle Android and Apple iOS platforms. With so many individuals going mobile, it creates an opportunity for you to increase customer engagement.
Promoting your products also becomes much easier with the help of social media links. You can reach out to more visitors and eventually grow your business' popularity without the need for additional software or hardware components.
Contact our experts at Code XOXO for seamless assistance in providing you a feature-rich e-commerce store right on your smartphone or tablet devices.
Solutions That Accelerate Your PrestaShop Mobile App Build
Code XOXO offers world-class solutions to merchants who own PrestaShop e-commerce store both on the web and mobile app. Installing the app on your mobile device takes only a few minutes. This is surely a productive approach to achieve higher conversion and sales.
Our PrestaShop app builder services for Android and iOS platforms lets you convert your e-commerce store into a totally functional mobile app. It lets you perform all the activities which you normally carry out via the web store. Plus, it gives you the added benefit to target more visitors to view and purchase merchandise directly on their portable electronic devices.
Control your PrestaShop mobile app with admin tool. A single administration panel lets you manage both the web store as well as the app on your mobile phone. You may also allow automated tasks to help ease your work-flow. The admin panel gives you privileges to make necessary changes or customise the mobile app that favors your requirements.
Quality and Testing

Our developers carry out rigorous testing and analyses the performance quality of the PrestaShop mobile app. These checks help our developers ensure the proper functioning of the app after it is installed on your mobile device.

Optimisation and Maintenance

Running your e-commerce business successfully and problem-free from a mobile app requires regular maintenance. Our developers perform a complete check of your PrestaShop mobile app and enhance the functionalities that require optimisation.

Access To Instant Support

At Code XOXO, you get instant support services from our certified experts whenever you require help. In order to get connected immediately with the support experts, you simply need to call us on our direct phone line <enter_phone_number>. The experts will get connected to you quickly and assist you with the specified tasks. Our support lines are open 24/7. Hence, you may reach us any time. We are available to assist you. If you need consultation, our experts can be approached to guide you with advice and suggestions.