Your Expert For PrestaShop Store On Web And Mobile Platforms
Code XOXO provides opportunity to merchants to build a successful online store in the PrestaShop e-commerce platform. PrestaShop is a robust and most widely used e-commerce platform around the world.
Our developers help you get started quickly by creating a feature-rich PrestaShop e-commerce store. It's comprehensive product features makes it an ideal e-commerce platform for all small, medium and large-sized e-commerce industries. Moreover, our e-commerce solutions can be easily availed to help you improve your online store's capabilities to a large extent.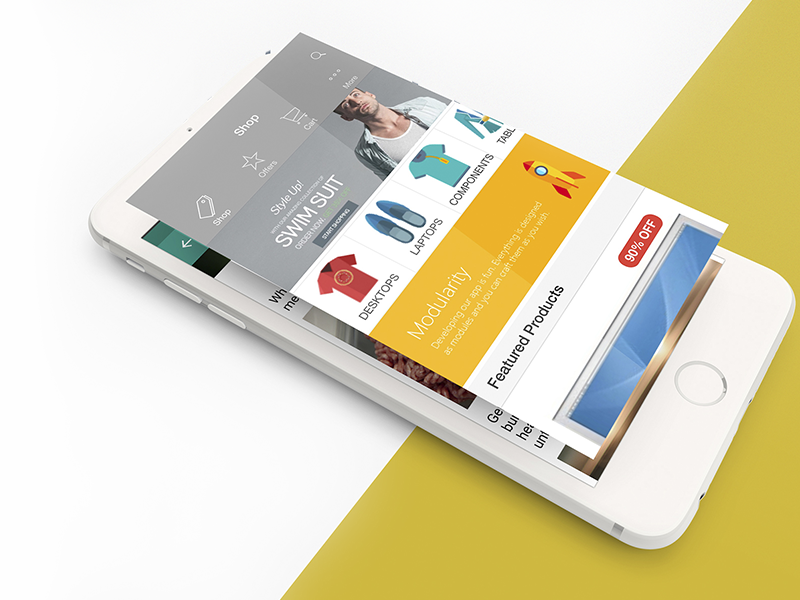 Services We Offer To Merchants
Being a leading e-commerce solutions provider, we willingly help online retailers and entrepreneurs start their journey in the e-commerce market. With PrestaShop's multi-featured store and e-commerce website, selling all kinds of products becomes seamless.
Sell as many products you want, there is no limit. Accepting payments online is quick, easy and secure. So, there is nothing to be worried about when you start trading online through your PrestaShop web store.
Being professional service providers of PrestaShop e-commerce, our developers and support experts possess great skills and expertise in delivering finest solutions to help you run your online business effectively. For this to succeed, we have listed, out of many, some of the services that keep us apart from the rest. These services can also be compared with the standard of quality and user experience.
Theme customisation

Every person has his/her own personal taste. Our developers help you make changes in the appearance of your PrestaShop web store without affecting other areas of your e-commerce website. You can design your web store with a wide range of custom themes that suits your taste. Our developers also create amazing themes that can transform the visual experience of your web store and develop interest in visitors who visit your e-commerce website to view and purchase merchandise.

PrestaShop core modifications

Apart from customising themes to give your PrestaShop web store a different and appealing look, we also customise the core aspects of your e-commerce store. This allows for improved and better functionality to carry out activities on your web store. Our developers at Code XOXO are certified professionals dedicated towards providing the best and effective solutions to mechants. Using high-end and latest technology, our developers can shape your web store to perform with charm and a never-ending experience.

PrestaShop updates

Keeping your PrestaShop e-commerce store up-to-date is crucial. New updates provide better features and rich functionality to your web store. Regular updates also provide powerful security to prevent any data or information from being compromised through online activities. We help you carry out important updates and install them on your e-commerce website for added security and safe trading of products and processing payments via a secured online payment gateway system.

Add-on modules customisation

Just like the important updates that provide added security to your PrestaShop e-commerce website, installing and using various add-on modules further expands the functionality of your web store. Our developers at Code XOXO provides access to thousands of free and premium add-on modules that will enhance the operations which you carry out in your PrestaShop e-commerce store. If you need assistance in customising specific add-on modules, our developers can be reached for via phone or e-mail.

PrestaShop core fixes

We provide additional fixes to keep your PrestaShop e-commerce store at par from encountering problems. Nobody likes to have problems lurking in their online store as it greatly affects one's business. Sometimes, when problems occur, you can contact us immediately and let our support experts provide quick resolutions and allow your web store to perform better. All the crucial fixes are carried out by our skilled experts as they have many years of expertise in this platform.

Custom Shopping Cart

We help you integrate Shopping Cart extension to your PrestaShop web store and customise its usability for better product checkouts. It works both on the e-commerce website and mobile app. We are more than ready to take care of the entire process of extensions and apps integration into your PrestaShop e-commerce store and also assist you all the way through customising them according to your likes and business needs.

Application support and maintenance

We provide unlimited support for your PrestaShop e-commerce store round the clock. Whether you want to install apps or modules, customise the look of your web store, add improved functionality or optimise the performance of your web store as a whole, our support experts are here to assist you. Get help any time from our experts to keep online business on the right track.
Features You Can Find In PrestaShop
PrestaShop gives you the liberty to harness these features:
Featured products on homepage

Multi-store management

Bulk product upload

Integrate payment gateway

Add product attributes like size, colour, quantity, etc.

Add to cart feature

Layered navigation

Products and discounts sections

Unlimited product combinations

Simple and easy tax management

User-friendly back office

Guest checkout

Configurable shipping options

Enhanced loading speed

Cross selling and up sell

Send invoices and slips in PDF format

Accept payments in multiple currencies

Supports many languages
PrestaShop is a very expanded and functional e-commerce solution for carrying out your business online. It combines both stability and flexibility that gives your online business a definite approach.
Contact us for your PrestaShop e-commerce development needs. Our developers at Code XOXO can be reached via the help desk number <enter_phone_number>.