HTML5 Mobile App Development Services
Codexoxo renders HTML5 mobile app development services with a goal to create an amazing experience between the developers and smartphone users throughout the world.
We deliver bespoke and tailored solutions to suit the ever-growing needs of our clients.
HTML5 is a technology that uses the latest version of the HTML markup language for the purpose of developing robust applications for various mobile devices.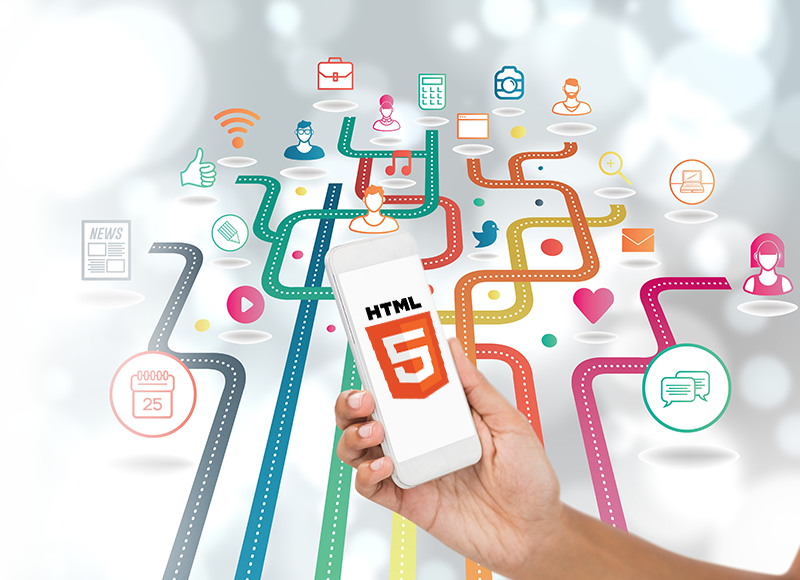 Take your business to another level. Get in touch with our professional developers to create business apps that are compatible across various mobile devices, where you also get the opportunity to grow your business substantially.
It does not matter how small or big your business is, using apps can really make a significant difference. We understand the importance of your business, therefore, we offer our services that can prove something worth.
Category of Mobile Apps
Using HTML5 for developing mobile apps has given rise to a tremendous growth in the mobile device industry.
Some of the major categories of mobile apps that are developed using HTML5 technology by the developers at Codexoxo include:
Apart from the various categories of apps mentioned above, Codexoxo also strive to expand its HTML5  mobile app development services by including more categories of apps for mobile devices.
Developing apps for mobile devices using HTML5 technology is carried out by specialised developers who have great skills and are also capable of making customisations, wherever necessary and as per the requirements of clients.
An Insight Of Our HTML5 Mobile App Development Services
Our HTML5 mobile app development services highlights the following:
Apps developed at Codexoxo are supported on all major mobile operating systems, which include Apple iOS, Google Android and Microsoft Windows phone.
The time taken to complete the development of apps are determined in the beginning.
Apps developed are tested under various circumstances before they are sent for validation.
The apps are validated and approved in their software repository before being made available for download to smartphone users.
The apps can be made available for download and installation through their respective download centre.
In the app centre (aka download centre), you will find both open source and proprietary apps for your desired mobile devices and based on the operating system version.
Apps are streamlined for enhanced performance and uses less resources.
The apps have visibility and ranking on popular search engines like Google, Yahoo, Bing, etc.
Apps are built in a cost-effective manner and does not burn your pockets.
The developers at Codexoxo are certified professionals bearing in-depth knowledge in HTML5 technology.
The HTML5 mobile app development services by Codexoxo are offered for a cost-effective budget.
Availing HTML5 Mobile App Development Services At Codexoxo
If you are looking for a developer who can build user-friendly and feature-rich mobile apps, then this is where you begin your journey. The skilled developers at Codexoxo can be approached to develop mobile apps for your company, or any business.
Simply give us a call on our toll-free phone number <enter-phone-number> to start availing our services. Our HTML5 mobile app development services are provided round the clock and we also offer support services and solutions in order to complement the projects of our clients.
Streamlined development approach
Exceptional skills in HTML5, CSS and JavaScript
24/7 support and assistance