HTML E-mail Signature Coding Service
E-mails have an important scope towards business as these are one of the most widely used mode of communication.
Unlike formal e-mails which you regularly send to your peers, groups, authorities, etc., there may be other type of e-mails that are generally sent to advertise and promote your business. Thus, in such e-mails, your business must include a signature – usually in a graphical form that will represent your brand.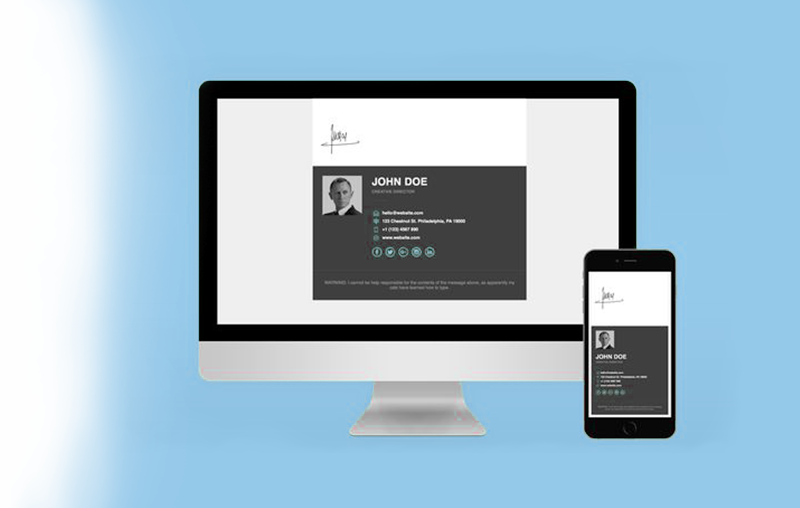 If you do not use e-mail signature, you are missing something. So, in order to keep your business brand in its bold reputation, it's is advised to use an e-mail signature. An e-mail signature will basically, give your brand and/or business a more professional characteristic.
Codexoxo renders services in designing e-mail signature and coding it in HTML.
Designing, Coding and Deploying HTML E-mail Signature
Our professionals at Codexoxo create interactive e-mail signatures, which can be used by businesses and individuals in order to make their brands be of greater standards.
Simply provide us the details that you want to have included in your business e-mail signature and leave the rest on to us. Also, if feel the need of making certain changes in your business e-mail signature, it is possible to do so, as long as you are satisfied with the end result.
See what features are provided when creating your business e-mail signature by the professionals at Codexoxo:
E-mail Signature Template
Fully Featured E-mail Signature with HTML Coding
Customise E-mail Signature
E-mail Signature Generator
Featured Grouping of Logos
Clickable Social Media Icons
Works On All E-mail Clients
Technical Support Availability
Install Signature and Configure E-mail Client
Does Not Compromise Visual Quality
We create visually appealing e-mail signatures for any type of business, that wants to leave an unforgettable impression to their consumers.
Why Codexoxo Is The Best
We strive to make our services better and provide the best experience to our clients.
We have several years of expertise
We provide reliable services
Expert in HTML coding service
Committed to timely delivery of projects
Comply with industry standards
All e-mail signatures are thoroughly tested
Adopts high-end technology
Our designs offer spectrum of choices
Able to create graphically rich e-mail signatures
We build professional impression
We maintain long-lasting relationship with clients globally
Client satisfaction guaranteed
Have a project in mind? Contact us today! Talk to our experts, or send us your queries via e-mail to our support e-mail address <enter-email-address> and we will respond to you promptly.
Contact Codexoxo For Business E-mail Signature
We are proficient in designing e-mail signature for businesses and coding the signature usig HTML, which is easily read by any e-mail client software on desktop computers as well as on portable devices.
You can get in touch with us any time, simply by dialling our toll-free phone number <enter-phone-number>. Our support centre is open round the clock to assist you. Give us a call and let our certified experts work on the project.