HTML To WordPress Theme Conversion Services
The web is becoming a much different place now. Websites are being developed with sophisticated technology that is ought to give you a whole new experience.
A website is primarily built using HTML (Hypertext Markup Language), CSS (Cascading Style Sheet) and JavaScript code. Today, with the invention of WordPress, which is world's most popular and widely used CMS platform, you can bring more richness to your site – no matter for what purpose you use your website.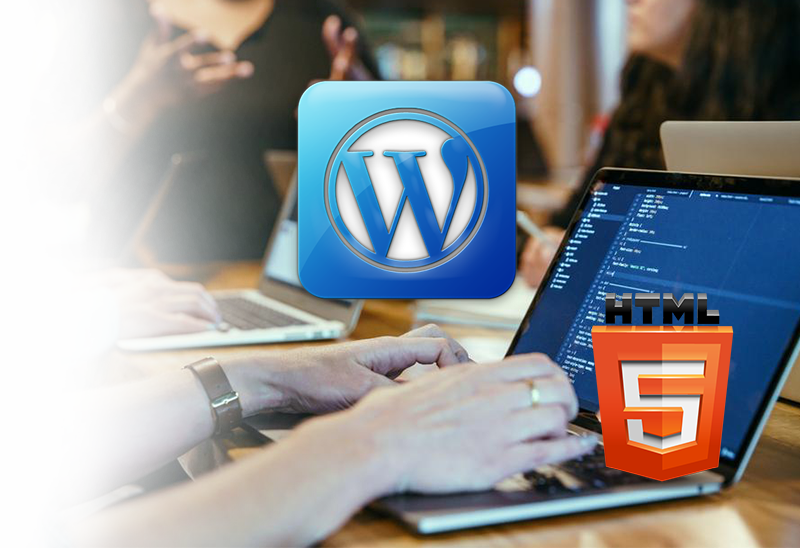 If you are new to WordPress, we can help you get started. This means, our support is rendered to business clients, rookie developers and home users as well.
We Convert HTML Themes To WordPress
Static HTML designs are outdated and are being replaced with more innovative, intricate and performance-oriented designs and themes.
At Codexoxo, our team of certified and skilled developers are here to revamp your website into a more visually appealing one. We convert static HTML templates to WordPress themes thus, creating a professional as well as authentic experience the moment you cast your eyes upon your website.
We use state-of-the-art technology and brilliant ideas to deliver unique piece of work – and all of this is through several years of expertise in the field and the willingness to make things happen.
Hassle-Free WordPress Theme Conversion
If you are looking for clean and elegant themes for your website, then your search ends here. Codexoxo has been constantly winning hearts of millions of WordPress site owners for many years now. We ensure hassle-free delivery of our WordPress services and strive to make ourselves even better in time.
Listed below are the main elements of HTML to WordPress theme conversion services that are offered to WordPress users at Codexoxo:
WordPress Template Design

New templates are designed for WordPress sites by our developers at Codexoxo. You do not have to take the trouble of creating designs for your site as that is taken care of by our creative designers. We make your site look fresh with our range of WordPress template designs.

WordPress Theme Development

We give your WordPress site a more exhilarating experience with our WordPress theme development services. Each theme for WordPress is developed to give websites rich and quality appearance and without compromising performance.

HTML to WordPress Theme

We convert static HTML theme to a beautiful WordPress theme and make each theme look visually pleasing to your eyes. You can also choose from hundreds of WordPress themes for your site that are available in our repository. Plus, we build custom themes as well, that fits your needs.

PSD to WordPress Theme

There is no need of spending tremendous hours just to get a single theme for your WordPress site. Our WordPress experts are here to transform Adobe Photoshop (PSD) format styles into captivating WordPress themes that will surely make your site look amazing.

Cross-platform Compatibility

Converted HTML to WordPress themes are totally compatible with various operating systems which are installed on desktops, laptops and tablets. The themes work perfectly on all supported web browser applications like Firefox, Safari, Chrome, Chromium, Edge, Internet Explorer, Opera, etc.

Mobile-responsive Themes

Themes which are converted from HTML to WordPress are designed to be responsive across various mobile devices. If you like to work on your favourite smartphone, you will experience a neat, clean and elegant theme built for your WordPress site.

W3C Compliance and Validated

Our HTML to WordPress conversion services adhere to W3C compliance and the industry standards. Also, each theme that is designed and developed at Codexoxo, are validated before they are deployed for installation on WordPress sites. So, you have nothing to worry about.

SEO-friendly

Businesses that use WordPress site to market products and services on the internet can easily increase their online presence via our search engine optimisation (SEO) services. Your website will have better ranking on popular search engines like Google, Yahoo, Bing, etc., and attract visitors.

WordPress Theme Update

Our WordPress theme update services keeps your site up to date with the latest essentials. Whenever an update is made available, our experts at Codexoxo will quickly install the required updates on your WordPress theme as well as across the site, wherever needed.

Speed and Performance Optimisation

We help you keep your WordPress site perform at peak and never slow down. If your website is slow and needs improvement, our technical experts at Codexoxo will carry out diagnostic checks to identify and fix the areas that affect the speed and performance of your site.

WordPress Maintenance and Support

We render maintenance and support services for WordPress round the clock. You can always find solutions and assistance for WordPress at Codexoxo by simply reaching our experts on the toll-free help desk phone number <enter-phone-number>.
Get Solutions and Support Services At Codexoxo
We provide round the clock solutions and support services to WordPress site owners and beginners all over the world. Finding help for WordPress is easy. Our WordPress experts can help you with questions that you may have with regards to HTML to WordPress theme conversion as well as WordPress as a whole. Our WordPress support services are effective and affordable.
Want to get in touch with us? We are available and can be easily reached via our support toll-free phone number <enter-phone-number>. Give us a call any time. Our WordPress support services are open 24/7.
Talk to our WordPress supports experts today! Dial <enter-phone-number> to get support immediately.