PSD To HTML Conversion Services
Bring some fine functionality to your website with our all new PSD to HTML conversion services. Make your website look visually appealing along with faster loading of pages and much more.
The technology uses PSD templates to create beautiful websites that can easily serve the purpose of businesses and organisations, whether small, medium or big. Not only that, even individuals and internet enthusiasts can have their websites created and customised via our PSD to HTML conversion services.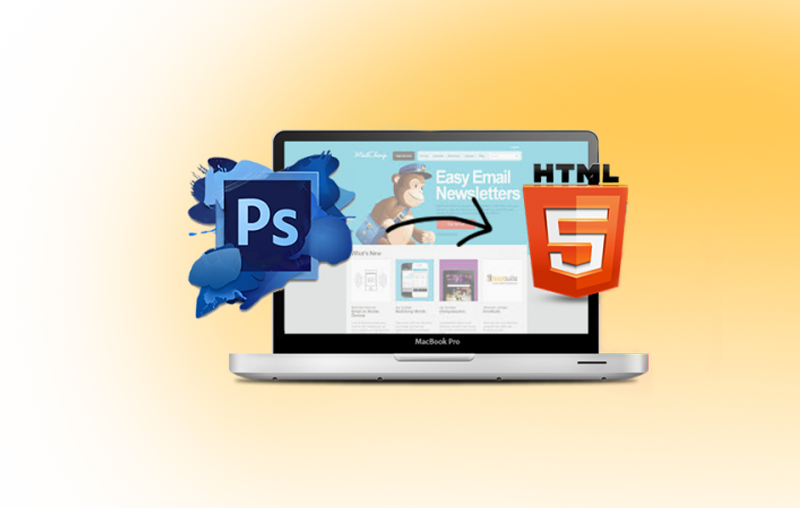 If you have a design in mind that you want to be applied to your website, then Codexoxo is your starting point. Simply keep away all your worries of designing the layout of your website. We have an excellent team of professional web designers and developers who can easily accomplish the relevant tasks for your website, regardless of the CMS platform.
PSD to HTML for various CMS
There are many CMS out there that allow creating websites for businesses as well as individuals. So, if you own a website on any of such CMS platforms, you can give your site more captivating characteristics and without impacting the rest of the elements of your site whatsoever.
Codexoxo provides PSD to HTML conversion services for many Content Management System (CMS) platforms, such as:
WordPress

Drupal

Joomla

Wix

And more
Choose the CMS you want to have your website built upon and share your preferences, if any. The rest of the work will be carried out efficiently by the webmasters at Codexoxo.
Specialised PSD To HTML Conversion Services
Codexoxo specialises in designing and coding templates that show genuineness from every angle. Our works have been experienced and appreciated by clients from different parts of the world.
You can get in touch with our team of certified web designers any time in order to have your website designed with authentic layout.
Outlook of PSD to HTML Conversion Services At Codexoxo
With the use of advanced tools, our graphic designers are able to create stunning PSD to HTML projects.
Website structure

This includes website structures like images, header, footer, sidebars, text blocks, navigation and other content components of your website. All these components are carefully designed by the professionals at Codexoxo and the website layout can also be customised in the future.

Responsive Design

Your website will function normally on mobile devices and tablets. The structured rendering will allow you to access your site and load pages effectively.

Loads Quickly

Your website, including its navigation pages will load faster across devices and operating systems without interrupting any other applications and/or services.

Pixel Perfect Visual

Our webmasters focus on the interactive display of website through rich layout with pixel-perfect quality that is sure to amaze you.

Cross-browser Compatibility

Built with HTML, CSS and JavaScript, your website has the ability to be accessed on all web browser applications. Thus, your website can be easily viewed on browsers like Firefox, Safari, Chrome, Edge, Chromium, Internet Explorer, Opera, etc.

Compatible with Mobile Platform

Websites that are designed and developed via Codexoxo's PSD to HTML conversion services are totally compatible with smartphones and other portable devices (that usually come with web browser application pre-installed to view websites).

SEO-friendly

Websites are coded to make them search engine-friendly. This is useful, especially if you run a business online and want to increase your site's traffic as well as online presence of your business to visitors.

Low on System Resources

With PSD to HTML conversion services, your website will ideally be low on system resources thus, making your website perform faster.
Why Choose Us
There are a couple of reasons that makes Codexoxo a chosen PSD to HTML conversion services across the globe and having many satisfied clients.
Expertise in Graphic Design
Use of Advanced Technology
Timely Completion of Projects
Solutions and Support Services
To avail PSD to HTML conversion services at Codexoxo, please call on the toll-free phone number <enter-phone-number>, or e-mail your queries at <enter-email-address>. Our help desk is open 24/7 to provide you with all the assistance and solutions you need for your website.