September 26, 2019
Posted by:

fyber

Category:

Web Hosting
"Amazon Lightsail" is a virtual private service (VPS) offered by Amazon web service. Amazon Lightsail made for those people who are beginners in the cloud computing industries and Lightsail provides us bundles of cloud computing power and memory so that we can scale our application securely.
Let's take an example: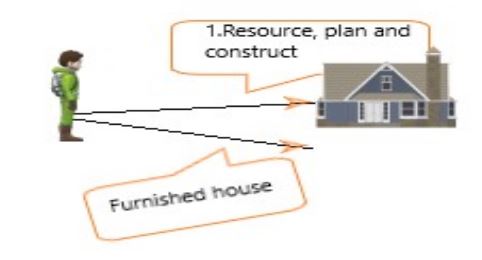 Suppose you have decided to get your dream home. Then you may have two options, the first is for those who love planning and they start to research what types of home available in the market. After that, they start planning for interior designing like how we want the kitchen, bathrooms, and gardens, etc.
And then, we tell to constructors and they make the house for us. In other words, you have to do lots of work to get a dream home.
On the other hand, we hire a person to purchase a furnished house who have well-designed homes and they help us to purchase furnished home. And they reduce those time and planning that has to be spent on planning and constructions.
Similarly, Amazon (AWS) service provides a pre-configured and pre-assembled platform to build your application.
Before moving towards our topic let's discuss VPS.
What is a Virtual Private Service (VPS?)
A virtual private server is just like a physical system, as you know in the physical system we have to install DBMS software like MySQL, and a platform for building applications like WordPress. on the other hand virtual private server is a cloud-based. Where AWS Lightsail provides a pre-installed operating system with some pre-installed WordPress and some other tools. Whom we can access it from anywhere.
Besides, a virtual server can access independently of a physical server. But important is, we have to set up VPS before access AWS Lightsail.
What is AWS 
Amazon web service(AWS) is an on-demand cloud computing server. and here you will get products according to your needs and each product are separate according to their work like a database management tool, separate computing product, Developers tools, management tools storage tools, analytic, security.
AWS is designed for small startup companies, as you know those who want to publish own website on the internet, they have to spend a lot of money for purchasing server like purchase hosting service and domain name purchase, etc. 
So you have to do all the work alone like server management, data management. To reduce these works today we are going to discuss "amazon Lightsail" which is one of the services among AWS's services.
What is Amazon Lightsail?
Amazon Lightsail is an easy way for developers to get started with a simple virtual private server (VPS) solution.
Lightsail provides storage, and networking and capabilities to use and manage websites and web applications in the cloud. Lightsail has everything those required to launch your website quickly like, virtual machine, SSD- storage, data transfer, DNS management, and a static IP.
Now, if we talk about the time of EC2 creation, we have the freedom to select various AWS components like AMI, EBS security groups, static and public IP addresses, etc. But it's a time taking process.
So if you simply need a pre-configured system and you just want to run your application on the inbuilt platform the best option for you will be VPS. Where each item is pre-designed, and it can be free for 12 months. But in this case, if you want to expand your development process then the option of scaling is very limited and it can be time taking process.
And when you feel you can use Amazon Lightsail easily and want to upgrade your storage, then you can upgrade your plan. Lightsail has some features we have illustrated below.
Advantage (Features) of  amazon Lightsail
Amazon Lightsail is a type of virtual machine that covers everything you need to publish your project quickly – a virtual machine, SSD-based storage, data transfer, DNS management, and a static IP.
The most important advantage of using Lightsail is you are always in control. We can see how our websites and applications are running and how much amount we have to pay at the end of the month. The billing process is as simple as the Amazon Lightsail services.
We can say it's a supermarket for all cloud needs. Let's see how it's a supermarket, for cloud computing.

Lightsail virtual servers
By the use of Lightsail, we can launch own website, web application or project in minutes. we can also manage our instance from the amazon Lightsail console.
When we create an instance in Lightsail, it allows us to click-to-launch a simple operating system or pre-configured application or development stacks, such as Windows, WordPress, Plesk, LAMP, Nginx, etc.
Access to AWS services
For a better user experience Amazon Lightsail uses some features like instance so that we can manage our database and for easier to get started, some of them are instance management and load balancer.  
But it doesn't mean that you can access limited AWS service only. You can upgrade your Lightsail project with the help of VPC peering after the update you can use those 90+ services which exist in AWS.
Managed databases
Launch a fully configured MySQL or PostgreSQL database in minutes and leave the maintenance to Lightsail.
Lightsail offer us managed databases, we can simply compute databases individually of our virtual servers, we can modify our application or yet run standalone databases in the cloud.
however, we can also deploy multi-tiered applications within Lightsail, by creating multiple instances that are connected to a centrally managed database
Simplified load balancing
Lightsail provides easy load balance routes across your instances so that our web app and application can accommodate changes in traffic. So that it can deliver a seamless experience to your visitors.
Upgrade to EC2 (Scaling)
When you will be independently able to use Lightsail and you will start to expand your cloud idea than you can easily upgrade to EC2 with a simple, guided experience.
Upgrading is easy, simply you have to take a snapshot of your instance and follow the step-by-step rule in the Lightsail console to export your snapshot to EC2. for more detail you can see amazon Lightsail home page.
For more cloud services click here.
Amazon Lightsail is designed for you
We will explain this by an example, suppose you are a blogger. And you want to start your blogging site, as soon as you start you come to know, you need to install SQL Server for your blog data management than on the web-server. 
Then you purchase a hosting plan but you stuck into configuring WordPress, connecting it to MySQL, configuring the DNS, So you will be frustrated and lost interest in writing a blog. Because your main goal is to write blogs. 
So with the help of the AWS cloud computing team, we can freedom from server managing, that's why they made Amazon Lightsail.
we hope you will understand after reading this example for whom is Amazon Lightsail.
So basically, we can use it when we don't want to lose our time in managing technical work, like server management and DNS management.
So let's have a look at the pre-configured system that AWS Lightsail offers us.
Launch Virtual Machine

Attach Solid State Drive

Manage IAM

Create Security Groups

Setup DNS

Create a Static IP.
Pricing of Amazon (AWS) Lightsail
Lightsail has currently 7-8 plans and these plans are based on how much memory, processor, SSD and data transfer rate we want. To use this service, we have to spend from $3.5 to $160 per month.
And all Lightsail plans have a static IP address with management console and secure shell terminal access or key management
One more thing I forgot to say domain name server management. Lightsail users can access the AWS tool by VPS.
For more pricing details see the below chart. Which is categorized on the base of operating systems.
For windows user
| | | | | |
| --- | --- | --- | --- | --- |
| PRICE | MEMORY | PROCESSOR | SSD Disk | TRANSFER |
| $8 USD | 512 MB | 1 Core | 30 GB | 1 TB |
| $12 USD | 1 GB | 1 Core  | 40 Gb | 2 TB |
| $20 USD | 2 GB | 1Core  | 60 Gb | 3 TB |
| $40 USD | 4 GB | 2 Core  | 80 Gb | 4 TB |
| $70 USD | 8 GB | 2 Core  | 160 Gb | 5 TB |
| $120 USD | 16 GB | 4 Core  | 320 Gb | 6 TB |
| $240 USD | 32 GB | 8 Core  | 640 Gb | 7 TB |
For Linux user
| | | | | |
| --- | --- | --- | --- | --- |
| PRICE | MEMORY | PROCESSOR | SSD Disk | TRANSFER |
| $3.50 USD | 512 MB | 1 Core | 30 GB | 1 TB |
| $5 USD | 1 GB | 1 Core  | 40 Gb | 2 TB |
| $10 USD | 2 GB | 1Core  | 60 Gb | 3 TB |
| $20 USD | 4 GB | 2 Core  | 80 Gb | 4 TB |
| $40 USD | 8 GB | 2 Core  | 160 Gb | 5 TB |
| $80 USD | 16 GB | 4 Core  | 320 Gb | 6 TB |
| $160 USD | 32 GB | 8 Core  | 640 Gb | 7 TB |
let's see how to use Lightsail and configure it.
How to install Amazon Lightsail 
For a better understanding, we are configuring WordPress in Lightsail but it doesn't mean that Lightsail is only for WordPress. We can use 6 different types of OS like 2 Windows Server versions–2012 R2 and 2016. And Amazon Linux, Debian, FreeBSD, OpenSUSE, or Ubuntu – and 2 Windows Server versions – 2012 R2 and 2016.
Let's follow the steps to configure Amazon Lightsail.

Register yourself on Amazon Lightsail homepage.

Then Deploy WordPress on Lightsail.

Log in and enjoy using WordPress.
Step 1: Go to the Amazon-Lightsail home page and click on the sign-up button. Fill all the details required.

Step 2: Give the details of your credit card. Then Amazon will make the automatic call for you so that you can identify, and it will ask PIN. Then you have to enter that PIN that will appear on the desktop screen.

Step3: Then choose the basic support plan and click the Continue button.
Finally, you will receive an Amazon confirmation email and you can use Lightsail.
Step1
Step2
Step3
Step4
Step5
Now you can deploy WordPress on Lightsail by creating instance on Lightsail
How to deploy WordPress on Amazon Lightsail
After login, click on create an instance that appears on the Lightsail dashboard.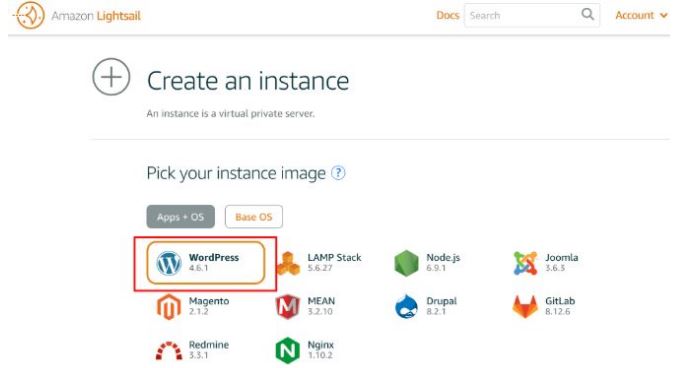 Now you will see the next window which has an option to choose your instance image. Simply go to the WordPress icon and select it.

And then choose a price plan offered by amazon Lightsail.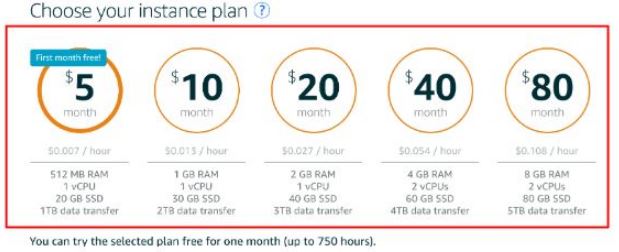 Confirm your selection by pressing the create button.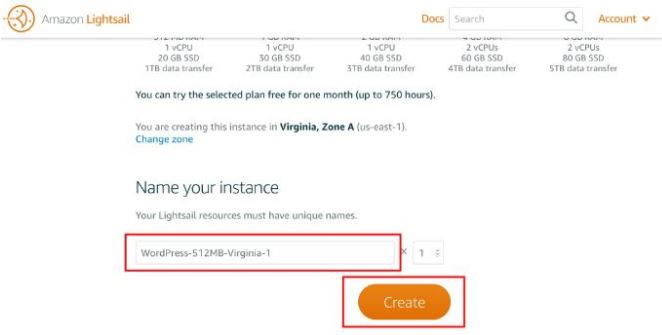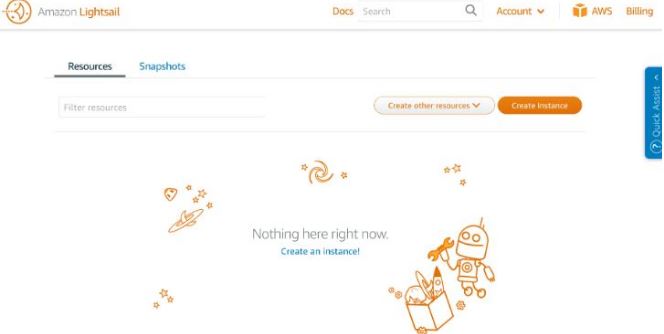 After that, you will see Lightsail console like this
Now admin password is stored in a file named bitnami_application_password which is situated in the home directory. Simply type command cat bitnami_application_password at the server console to see the password. See here an example we gave below…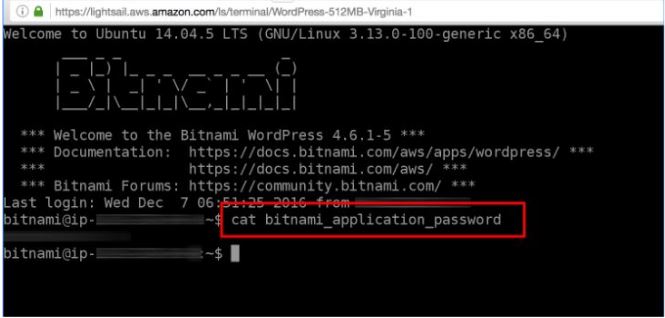 Finally, you can log in into your WordPress, and run easily by using this URL http://SERVER-IP/wp-admin. 
Conclusion
We hope you now understand everything about Lightsail. Amazon AWS re-invented their AWS services in the form of Amazon Lightsail. We can have VPS for running our application and websites. Amazon has built this for competitive in cloud computing industries.
This Lightsail is designed for Student and developers those who want to test their application on the server.
However, Lightsail has some limitations, like that for upgrading our storage we have to choose another plan. Up-gradation of the plan is not easy, we have to go through a long process. And that can waste our time.